SOLID WASTE & RECYCLING SERVICES
GFL Customer Care
MUD 127 employs GFL Environmental (GFL) to pick up and dispose of the solid waste generated by the homes in the district. Each month, GFL collects in excess of 200 tons of solid waste and 25 tons of recyclables in our district.
Solid Waste Collection
Collection days are Wednesdays and Saturdays. As explained below, GFL is equipped to accept a wide variety of materials, but not everything you might consider "trash." Please note the materials accepted for collection, and follow the pickup instructions below.
Use the royal blue, 95-gallon (WCA-labeled) waste-bins-on-wheels for trash in bags or other containers. All trash should be bagged or in containers that fit inside the bins to prevent solid waste from flying out during the collection process, especially on windy days.
Use the gray and black (WCA-labeled) rolling bins labeled with the "recycle" triangle for all recyclables. Both bins are the property of GFL and should not be removed from the District.
Note: The information below has been reviewed by GFL as of September 2022 and is correct according to the contract for service with MUD 127.
Solid Waste Collection Guidelines
Place all waste at the curb by 7:00 AM each Wednesday and Saturday. Recycle service is every Saturday. Please place recycle container/s at the curb by 7:00 AM. Collection of refuse or recycling will not start before 7:00 AM or continue after 6:00 PM on the same day. Exceptions would be due to unusual circumstances.
Refuse must be either in containers or bags not exceeding 40 gallons or 40 pounds. Household garbage is defined as waste generated inside the house, exclusive of any construction or remodeling debris.
Trees, shrubs, brush trimmings and fencing must be tied and bundled in lengths no greater than four (4) feet with no branch diameter exceeding three (3) inches. These items may be set out for collection on either Wednesday or Saturday.
Heavy/bulky waste/items (limit two) must be located at the curb of each residence. Items such as appliances, furniture, carpet up to one room (rolled up to four feet wide and less than 40 pounds), cardboard boxes (flattened). Bulk items may be set out for collection on either Wednesday or Saturday.
By Federal Law, refrigerators and freezers or any other items containing Freon

must be drained of Freon

and have an accompanying bill to validate that such service was performed.
Items excluded from normal collection are dirt, rocks, bricks, concrete, tires, batteries, motor oil, cooking oil, waste generated by a private contractor or any materials or items deemed hazardous or flammable.
GFL crews will leave a tag explaining the reason for non-collected item/s.
For special collection of other-than-normal amounts of residential refuse, yard waste or bulky items GFL will, if notified in advance, meet with resident prior to collection day to determine a price.
Holidays: If a scheduled collection day falls on any of the following holidays, service will be resumed the following scheduled pickup day. GFL observes the following holidays: New Year's Day, Memorial Day, Independence Day, Labor Day, Thanksgiving Day and Christmas Day.
Curbside Recycling
MUD 127 encourages residents to take advantage of curbside recycling, in accordance with the information below. Failure to follow this advice can "contaminate" the recyclable pickups and negate the benefits of the program.
Tips for Successful Recycling
Empty and rinse your plastic bottles, tubs, jugs, jars, metal cans, glass bottles and jars. Flatten all cardboard boxes and paper bags, but do not flatten plastics, paper cartons or metal containers. There is no need to remove paperclips, staples, stamps, address labels, tape, wire, metal fasteners, rubber bands, spiral bindings, or plastic tabs. Place items loose in recycle bin; NO BAGS.
Materials Accepted for Recycling
Plastics #1 through #7, including Bottles, Tubs, Jars & Jugs (no #7 PLA compostables)
Metal cans: Aluminum, Steel & Tin
Glass Bottles & Jars
Paper, Cartons &

Flattened

Cardboard
Opened Mail (including Junk Mail & Greeting Cards) & Folders
Paperboard boxes (e.g., Cereal, Rice)
Items
Not

Accepted for Recycling
Aerosol cans
Aluminum foil
All batteries (car, lithium, etc.)
Ceramic items
Clothing or textiles
Diapers
Styrofoam of any kind (cups, to-go boxes, peanuts, etc.)
Electronics
Food-soiled items
Hazardous waste (see here for handling/disposal)
Light bulbs
Medical waste
Plastic bags/wrap (take to local grocery stores)
Scrap metal/wood
Shredded paper
Tanglers (cords, hoses, wires, etc.)
Tires
Toys
See the handy chart below summarizing the dos-and-don'ts of recycling. Click on the chart to view, print and post in a place where everyone in the household can refer to it.
For assistance, questions, comments, or complaints regarding your trash or recycling pickup, contact GFL Customer Service at 281-368-8397 or email gflcshouston@gflenv.com. Be sure to tell the rep you receive service in Harris County MUD 127, and refer to the information above.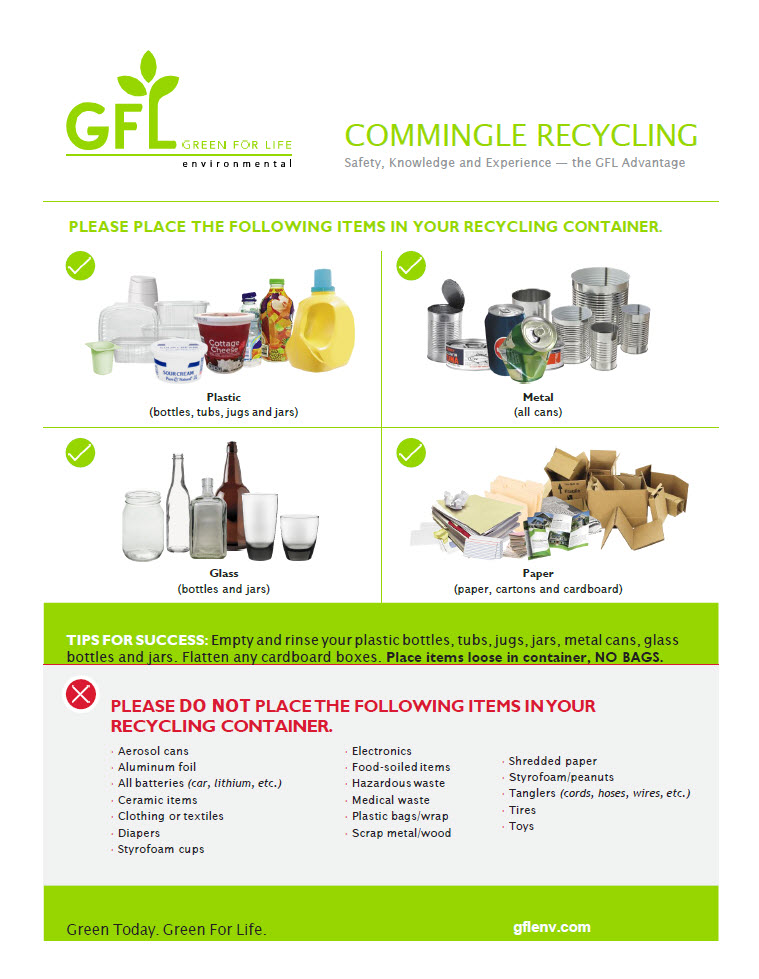 Thursday, November 30, 2023 at 11:00 AM
Monday, December 11, 2023 at 12:00 PM