HOUSEHOLD HAZARDOUS WASTE
Proper Disposal of Household Hazardous Wastes
Many paints, cleaners, pesticides and other chemicals used around the home contain substances classified as household hazardous waste, or "HHW." Such products are labeled with warning words such as "toxic," "corrosive," "irritant," "flammable," etc. and contaminate our solid waste landfills and water. Because HHWs are harmful to our environment and our health, these items require special handling for safe disposal.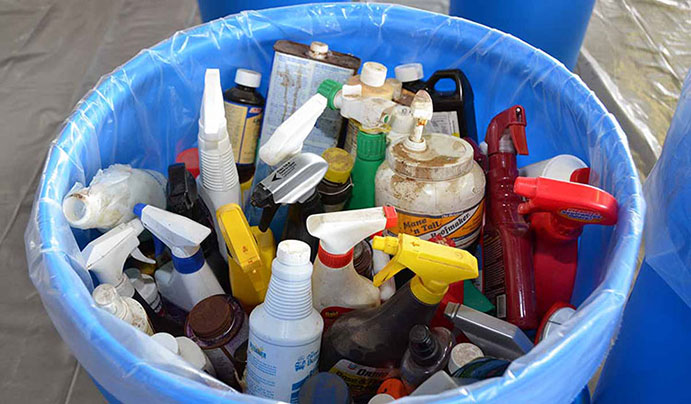 Empty containers may be placed in your regular trash or recycling bin. However, when any HHW product remains in a container, it should be disposed of properly.
Harris County provides residents a method for safe disposal of household chemicals, "FOG" (fats, oils and grease), batteries, CFL and fluorescent tubes, and other hazardous household waste. The county's Engineering Department operates a facility at 6900 Hahl Road (290 & Gessner area), Houston 77040, which accepts HHWs twice weekly. Occasionally, the HHW department conducts off-site collections, but is limited as to the quantities it can collect at locations away from the Hahl Road facility.
Neighbors may want to join together periodically and coordinate the collection of their HHWs for transport to the Hahl Road facility.
For a complete list of items accepted for collection, dates and times of collection, and for information regarding safe handling and transport of HHW products, go to http://www.eng.hctx.net/Consultants/Household-Hazardous/Household-Hazardous-Waste. You can also call the HHW Information Line at 281-560-6200; para Español, 281-560-6232.
Monday, June 12, 2023 at 12:00 PM