MUD 127 owns and manages more than $12 million in assets. To help protect these assets, as well as the assets of residents, the District has contracted with SEAL Security Solutions for security patrol. SEAL's assignment objective is to provide patrol visibility, proactive crime deterrence, responsiveness to resident needs, and accountability.
All SEAL officers are commissioned (Texas DPS Level III), uniformed, armed, and trained to detain suspects for law enforcement. They patrol in marked vehicles and occasionally on foot with a highly trained police dog. Most are former military or police officers. All must undergo rigorous pre-employment background checks and successfully complete SEAL's strict training program. The officers are monitored by GPS every four minutes, which makes them accountable for their location and activities at all times.
24/7 SEAL Hotline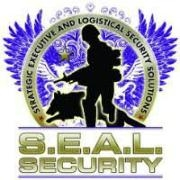 While round-the-clock patrol coverage is cost-prohibitive, SEAL has a 24/7 Hotline for MUD 127 residents to report suspicious activity anytime or to request assistance. When an officer is on duty in the district, s/he will respond to the call.
The HOTLINE number is 713-489-0099. Record this number in your phone's Contact listings, so it is always handy.
The Hotline rings at the state-of-the-art SEAL Command Center, which has the capability of translating calls from 200+ languages.
The Harris County Sheriff's Office (HCSO) remains our source for public law enforcement, and residents should REPORT ANY EMERGENCY SITUATION BY CALLING 9-1-1. Non-emergencies are reported to the Sheriff's Department by calling 713-221-6000.
Vacation Watch
SEAL Security prides itself on having its officers get to know the residents of the communities they serve. One of the services they provide is "Vacation Watch." If you are going to be out of town for any reason, you can alert SEAL by completing the Vacation Watch form.
If you encounter a SEAL officer on patrol, introduce yourself as a resident. For more information about the company, its staff and expertise, visit www.sealsecuritytexas.com and click on "Homeland."
Accountability
Between monthly meetings, one member of the Board of Directors acts as the District's liaison with SEAL Security. The Board liaison reviews and provides feedback on periodic patrol activity reports and focuses on educating MUD 127 residents about crime prevention, personal safety and property security.
In the end, safety and security is everyone's job. Learn more about steps you can take as an individual to support crime prevention and a safer environment in our district. Check out these links:
Monday, February 8, 2021 at Noon